Google Revamps Google Trends
Google has launched a new version of Google Trends, a product that allows users to monitor trending interests online, by merging it with Google Insights for Search, a way to monitor and compare popular search terms over time and across regions. The combined tool not only offers features from both products, but also comes with a new interface that makes it easier for journalists, businesses, and researchers to view the latest online trends from around the world.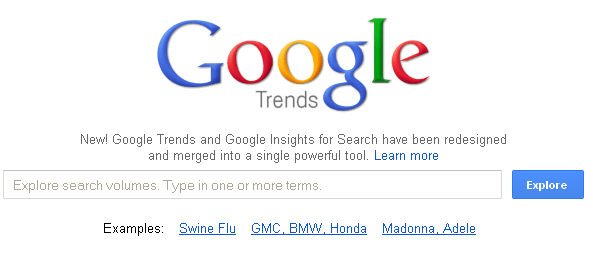 According to the announcement, the new Google Trends boasts an updated line chart and map, making it possible for users to load the page on mobile devices, view results without scrolling, and gain access to Hot Searches for the U.S., India, Japan, and Singapore.
"Google Trends data can be used to better understand global trends -- identifying health trends such as in flu trends, nowcasting in economics, and studies on the predictability of search trends," Google Senior Engineer Director in Search Yossi Matias wrote in a blog post.
Matias added, "There's so much in this data for journalists, academics, and anybody who's curious about the world to explore, and we'd love to see what you find."
Read more:
http://insidesearch.blogspot.com/2012/09/insights-into-what-world-is-searching.html
http://searchenginewatch.com/article/2213716/Google-Trends-and-Insights-for-Search-Become-One-Mobile-Friendly-Service
Oct 01, 2012